Roof top gardens are a fantastic way to gain some outside space when you are one of the many people who live at height in an urban area. Roof terraces and gardens also make great use of frequently unused or wasted spaces, allowing residents living on upper floors to create their very own oasis looking out over the city.
This was the exact brief of High Reach System's most recent clients in East London who were looking to considerably improve the large balcony area of their third-floor apartment. The idea was to create a seating area below a pergola, surrounded by planters filled with flowers. Their only problem was how to get the building materials to the site in such a highly built-up area, without access at the rear.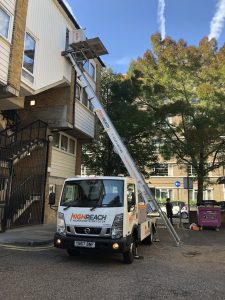 The client needed to lift wooden pergola sections, hardwood planters and 25 bags of topsoil through their apartment and out onto the rear balcony via the kitchen. Using manpower alone, this would have taken several hours and would have risked both damage to the people doing the lifting and to the communal stairways within the building. It would also have caused a disturbance and an obstruction to the other residents living on the lower floors.
We decided to use our Nissan truck mounted elevator which is capable of lifting to 27-metres with a maximum of 400Kgs per lift. We parked this to the front of the building where the team positioned the hoist to the left of the living room window, avoiding a nearby tree. They then maneuvered the 4.0m trusses through the window at an angle to be received from within and taken through the property. Our furniture hoist made easy work of each beam, lifting them in UNDER A MINUTE to the correct height allowing the team to safely reach them.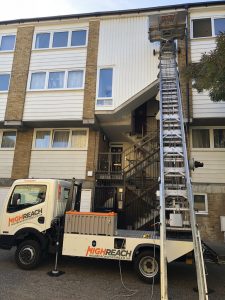 Due to the shape of the living room window, the planters and bags of top soil had to be carefully lifted through a window on the half landing using a step ladder from inside to reach them safely and then bring them through the apartment.
The client was incredibly happy with the service provided due to the speed of the lift and the efficiency of the team who left the space immaculate with 0% damage to the property. They were able to create their dream outdoor space that very day, leaving enough time to watch the sun go down with a glass of wine in hand.
"Logistically we had thought it impossible to create our ideal roof garden as being on the 3rd floor without a lift we were unsure how to get the timber for the pergola to this height. We had heard about hoists for furniture and thought we would give High Reach Systems a call to see if they could help. They were solution focused from the word go and were highly professional and friendly throughout the whole process." Ms C London E1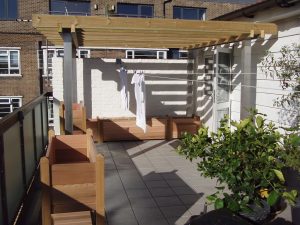 It is always satisfying to serve another happy customer and taking on interesting or unusual jobs shows just how versatile our hoists can be. With more people living at height, and