It's not every day we are asked: "Can you lift a replica Apollo landing capsule into a first-floor restaurant in Central London – in the middle of the night?", but at High Reach Systems we were happy to oblige; safe in the knowledge that our tuck mounted lifting systems and team would manage the load with ease.
The Apollo capsule was to become a unique dining space within Gordon Ramsey's new restaurant: Bread Street Kitchen located in the vibrant One New Change, St Paul's. It required lifting in 4 sections onto the first-floor of a warehouse style shopping centre, along with all the new furniture for the restaurant. The job had to be completed at night to ensure there was no disruption to the other businesses within the building.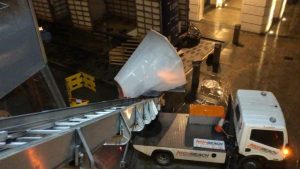 We decided to use our Nissan truck mounted elevator which is capable of lifting to 27-metres with a maximum of 400Kgs per lift. Due to the scale of the building, we were able to drive into the main entrance and safely rest the platform ladder against the first-floor mezzanine level. Each section took no more than a minute to lift on the platform, where our team were able to manoeuvre them by hand into the restaurant.
The awkward shape and weight of the capsule meant the standard removal company were unable to use the lift of stairs, so we were able to save time, money and reduce risk of injury to the building and clients.
They were incredibly happy with the service provided due to the speed of the lift and the efficiency of the team who left the space immaculate and were flexible with their working hours.
"We were really impressed with High Reach Systems – not only were they hugely efficient, but they were flexible to suit our needs by assisting us at night. The Apollo capsule looks fantastic in the space and is a really unique feature for the restaurant."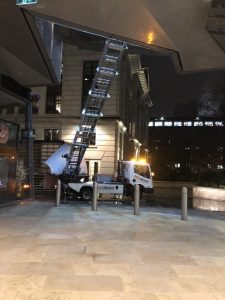 Taking on these interesting and unusual jobs shows just how versatile our hoists and lifting platforms can be – whatever next?
We offer a vast array of hoisting solutions for furniture or construction materials; for individuals and companies, and our trailer mounted lifts are capable of fitting into exceptionally narrow gaps.
For a free quote please call Simon on 020 3880 7774 or send us an email at info@highreachsystems.co.uk